Past and Present - LNER (GC) 2-8-0 "O4" 8F
Designed by Robinson and built from 1911 for the Great Central Railway, the "O4" was the mainstay of motive power for freight traffic on GCR lines for many decades, until the introduction of the BR Standard "9F" in the 1950's.
The above photos show "O4's" working north through Nottingham Victoria (1), on 9th July 1965. On the left, 63674 and the other view shows 63819, both type "04/6" rebuilt in 1944 with new boilers.

63701 is one of a few "O4/3" rebuilt in 1917 with only steam brake and no scoop. (8th August 1965 at Langwith.)
63601 in original condition was preserved for the National Railway Museum collection. It was rebuilt to working order at Loughborough in the late 1990's from funds including £70K raised by the Steam Railway magazine. It is now a most appropriate sight on the GCR, especially when hauling the "Windcutter" wagons.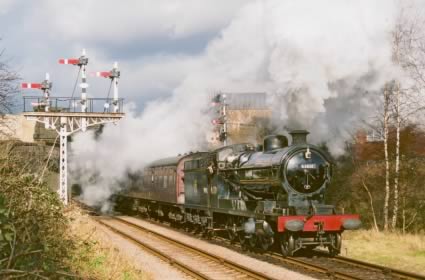 63601 powers out of Loughborough on 27th Jan 2001