The Great Central Railway, Past and Present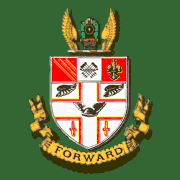 After closure in 1969 of the Nottingham Arkwright (1) St to Rugby local service the Main Line Preservation Group was formed to try to save the line from Nottingham to Leicester. As BR were using the line for freight from Ruddington (4) to north Loughborough, preservation efforts were concentrated on the line from Loughborough Central (8) to Belgrave and Birstall (14) (to become North Leicester).
Loughborough Central was leased for the centre of operations, and by 1973 the first preserved trains were running to Quorn and Woodhouse (10). In order to prevent BR Property Board lifting their lines a public shareholding company, the Great Central Railway (1976) Ltd was formed and the track bought from Loughborough to Quorn, and the remainder by 1977.
However only a single track was eventually saved from Loughborough to Rothley (13). After years of fundraising including generous donation from local businessmen and much hard work from the Group employees and many volunteers, the dream of creating Britain's first preserved Main Line operating on double track has eventually become a reality.
A locomotive shed has been built at Loughborough, where over time many old steam locomotives (and now diesels) have been carefully restored to working condition, often from rusting scrapyard hulks. Particular reference must be made to the fantastic efforts in restoring Standard 8P Pacific 71000 Duke of Gloucester and Robinson O4/1 63601.
The following pages compare photographs I took of locomotives on the GCR during its last years, compared with engines of the same classes which have worked from Loughborough during the Preservation years. These photos are a tribute to all those who have worked, not just on the locos but on the infrastructure, rolling stock, signalling, and management of the GCR (1976), to "recreate the experience" of a working Main Line Railway. I would urge all those reading this to take a trip on the GCR from Loughborough soon and capture the delights of a "real" railway! (see GCR map).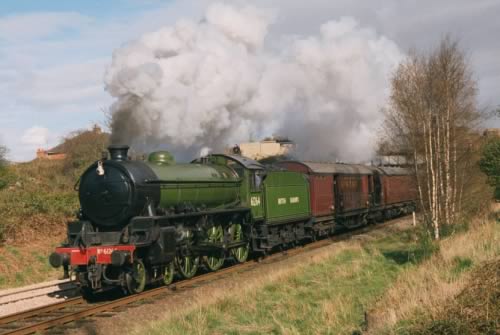 B1 61264 in apple green livery leaves Loughborough on 25th March 2000 with
a demonstration mail train. The double line is down, but was not in operation.