Past and Present - LMS 4-6-0 "Royal Scot" 7P
Displaced from the West Coast and Midland main lines by diesels, "Royal Scots" were drafted onto the GCR from 1962 to 1964. They were run down and were soon laid up for scrap, which was a sad end to this fine design of locos.
On the left, 46163 (ex Civil Service Rifleman) at Nottingham Victoria (1) 7th April 1964. The loco had been cleaned for an Ian Allen special working. Note the clock tower in the background.
On the right, 46112 (ex Sherwood Forester) was a favourite loco, often seen on the "Robin Hood" Nott'm - St Pancras. It had the misfortune to have its name transferred to D100 (class 45 now preserved) at a "ceremony" at Derby station in the early 60's. Here at the back of Annersley shed in May 1964, with connecting rod removed, it awaits its fate.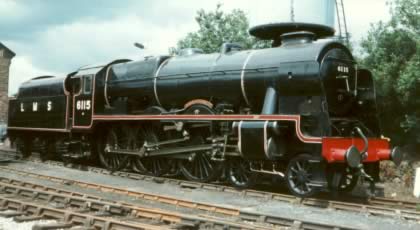 The preserved 46115, Scots Guardsman, at Gorton shed, on the GCR route into Manchester. I hope that one day we might see this loco running on the GCR.