Past and Present - LMS 4-6-0 "Black 5" 5MT
A total of 842 of these locos were built, and they became the willing workhorses of the extensive Midland region. During the last years of the GCR in the 1960's the semi-fast trains from Nottingham to London were almost exclusively hauled by this type of engine, as can be seen on the GCR homepage. The "Black 5" was a good nickname for the GCR locos as they were always filthy, but they still performed well.
45292 leaves Rugby Central on 3rd Sept 1966
with the 11-15 Nott'm - London parcels
44984 leaves Leicester Central (15) with
the last 17-15 Nott'm - Marylebone
The photos above were taken on the last day of through working to London, 3rd September 1966. The chalked message on the smokebox door of 45292 says it all!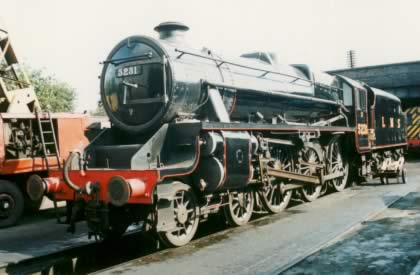 An immaculate 5231 stands outside Loughborough shed on 3rd August 1996
5231 was the first "large" engine to work on the preserved GCR in the 1970's and has been a regular sight for many years.