Past and Present - Southern 4-6-2 "Merchant Navy" 8P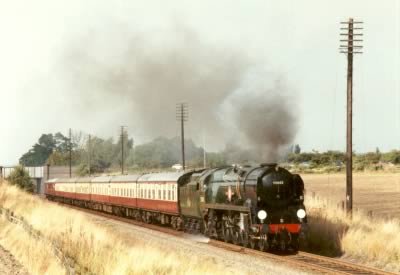 A classic sight of 35005 storming up to
Woodthorpe (9), on 15th Sept 1991

The unusual Southern wheel hub pattern can be
seen in this shot of 35005 on 2nd Jan 1994

The 30 strong Merchant Navy class built from 1941 were the primary power for the main express trains on the Southern region. On rebuilding from 1956 these engines featured the latest engineering advances in steam locomotive design including Walschaerts valve gear and performed consistently well until the end of steam on the Southern in 1967.
Several Merchant Navy locos reached the Barry scrapyard and subsequently have been rescued for renovation on preserved railway lines. This includes 35005 'Canadian Pacific', which arrived at the Great Central Railway partly restored in 1989, and was first steamed in 1990.

On the last day of through running on the GCR Merchant Navy 35030 "Elder Dempster Line" worked a special from London to Nottingham Victoria, and is seen here passing Leicester Central on the return journey.
BR Standard Pacifics 4-6-2 8P, 7P6F
Back to Past and Present