Preserved Locos - LNER "A4" 4-6-2 8P6F
Whereas the LMS "Duchess" would be viewed as the "Heavy-haul" express locomotive of its day, the Gresley masterpiece "A4" was the "greyhound", for which class member "Mallard" holds the world steam locomotive speed record of 126 mph.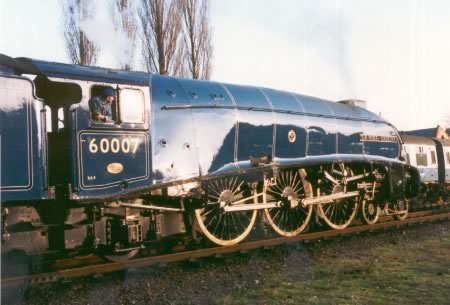 60007 Sir Nigel Gresley waits to leave Loughborough on 7th August 1994
I regularly made the journey from Derby Friargate to Grantham in the late '50's and '60's to see the Gresley Pacifics race through the ex-LNER station. Instantly recognisable by the wedge front streamlined shape, the A4's, rightly nicknamed "streaks", announced their presence even before being seen by their special deep chime whistle.



Sir Nigel leaves Loughborough on
7th August 1994




4498 passing Woodthorpe on
2nd January 1994







60007 Sir Nigel Gresley has been a visitor to
the GCR, once in LNER garter blue livery and
later in the same year in early BR blue guise,
as seen in the photographs.





60007 storms past Woodthorpe on
15th October 1994